Turning the Page: How Grief and VSS Changed my Life
The salty waters of Bellingham Bay in Western Washington glinted like diamonds in the sunlight as I stood in a circle with roughly 20 strangers.
Some of us had tears in our eyes. Some of us didn't.
But we each held a rock with the name of a murdered loved one written on it.
It was September 25th, and though we were strangers, we had all gathered at Boulevard Park to attend an event hosted by Victim Support Services: The National Day of Remembrance for Murder Victims.
My brother was murdered in 1997, on his 21st birthday, by three of his closest friends. I was 16 years old when it happened, and I learned quickly that homicide is a very taboo subject.
My friends avoided me, my teachers looked at me sadly, but didn't say anything, and my parents had been thrown into the trenches of a Hell no parent should ever have to experience.
The aloneness of that time in my life is something that no words can describe.
Murder is something that makes people uncomfortable. Even though, as humans, we have a morbid fascination with murder, when it happens close to home, it becomes too real.
I was conditioned by society to not speak of my experience with murder; to hold it in and mourn silently. To not burden others with my suffocating pain.
It wasn't until I was in my 30's and living in Bellingham that I stumbled across Victim Support Services. I began attending events and started to find my voice regarding the trauma I had held so closely for so long.
In the years that followed my first VSS event, I became actively involved in the organization and was astounded to have found such a profound collective of people. We gathered for vigils, for remembrance events, for BBQs in the park on sunny days, for coffee on rainy days. I was overwhelmed with gratitude that such an organization existed, and that I was a part of it.
I began to shed my aloneness and embrace my story.
For the first time since my brother died, I started to feel the shame of his death sliding off my shoulders. The VSS staff, volunteers and participants were there by my side every step of the way, as I was for them.
To be surrounded by a group of people who were navigating the same trauma-filled road as me was such a beautiful thing. Within that group of people, I wasn't something to be feared, someone to shy away from.
Instead of being afraid to mention his name, they asked about my brother. They wanted to hear stories about him and look at photos of him. We laughed with each other. We cried with each other. We listened to the most painful bits of each other's lives.
This was the most vital contribution, for me, that VSS offers. With my brother's murder decades in the past, I wasn't in need of the services that offer support while in the thick of the trauma. I was, however, and still am, in need of the gently nurturing and loving grace that VSS gives in the never-ending wake of tragedy.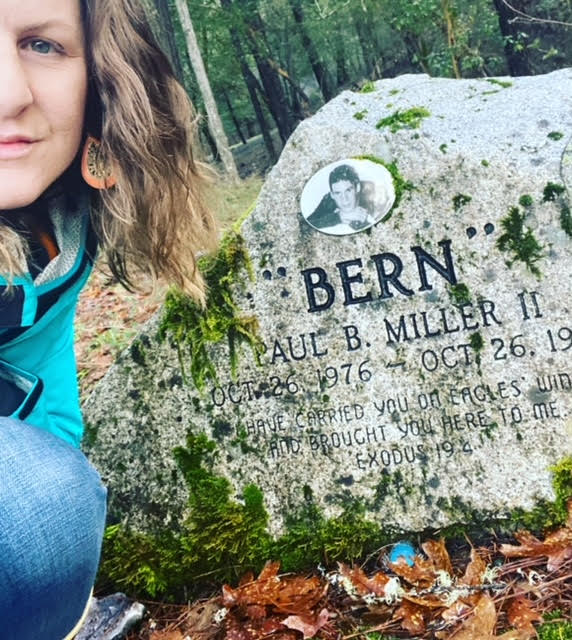 Following her brother's murder, Liberty wrote the book, "The Heart of the Runaway," to share her personal journey through grief.
She also co-wrote the book, "Our Prison Story," with her good friend Aprelle whom she met while volunteering at a prison.
As a way to give back to VSS, on February 22nd, Liberty and Aprelle are so graciously donating 50% of book proceeds from both books. Sales will come from both from online sales as well as from in-person sales at Liberty's coffee shop in Seward, Alaska.
Coffee Shop Location:
13 Ravens Coffee & Books
411 Port Ave, Seward Alaska
Buy "The Heart of the Runaway" on Amazon HERE!
Buy "Our Prison Story" on Amazon HERE!
You can follow Liberty's coffee shop "13 Ravens Coffee & Books" on both Instagram and Facebook and we also encourage you to pop in for a warm cup of coffee the next time you find yourself in Seward, Alaska!